How to compare Salesforce orgs and return the metadata differences
How to Compare Salesforce Orgs and return the Metadata Differences
Mar 02th, 2022



Salesforce is a cloud-based CRM with a myriad of management features and functionalities. Like any software, it can be updated over time to include new features. Before deploying changes in any Salesforce org, Salesforce admins frequently need to compare Salesforce metadata between Sandbox and Production.

The first step in any deployment process between Salesforce orgs is always to compare them and get the metadata differences. The comparison results will help you to see how they differ, as well as how they are alike, you will be much more prepared for changes going forward.

In this article, we'll show you how to compare Salesforce Orgs and return the metadata differences. You can use the compare metadata feature included in AbstraLinx to see what changes have occurred in your Salesforce org.


#1 Metadata visualization and discovery tool for Salesforce
Get started for free TODAY!
AbstraLinx is an Intelligent Way to Extract, Explore, and Document Salesforce Metadata.
---
Nothing to install in your Salesforce orgs No credit card required
1. What is AbstraLinx?
AbstraLinx is a metadata discovery software that allows Salesforce admins to extract metadata from Salesforce, discover, and document them with ease. You can use it to analyze, explore, document, compare and maintain Salesforce metadata. You can also build ER Diagrams, generate data dictionaries, documentation reports or comparison reports. AbstraLinx helps you to understand and maintain your Salesforce orgs with ease.

AbstraLinx allows you to track changes made on your org and create a comparison results report. It's pretty simple to set up and use too! This article will walk you through how to compare Salesforce Orgs and return the metadata differences between them using AbstraLinx.
For more info, you can check out the AbstraLinx product overview Here. You can also start a free 15 days trial now (No credit card required).
3. Compare Salesforce Orgs and get the metadata differences
AbstraLinx offers the ability to compare the metadata between any two Salesforce org whether they are production or sandbox orgs.

To initiate a metadata comparison between two orgs, please follow these steps:
Step 1
After downloading and installing AbstraLinx, open the application and go to the menu "File | Manage connections" and create a new connection to both Salesforce org you want to compare.
Firstly, click on the button to create a new connection, then fill in the following information:
Name: give a name to your connection
Authentication method: choose "Simple" for an easy set-up
API version: select the API version
Environment: production or Sandbox
Username: your Salesforce username
Password: your password
Security Token: see how to get it
Then Click on to apply the changes and complete the connection creation. You can test your connection by clicking the "Test Connection"

button.

Step 2
On the main menu, navigate to "Tools | Compare" to open the comparison window.
Select the source and target Salesforce org you want to compare by selecting their connection you created earlier in the previous step.
After that click on the "Next" button to start the comparison process.
Step 3
As a result, you'll see a window that displays comparison results.
All the objects from both Salesforce orgs are displayed in alphabetical order.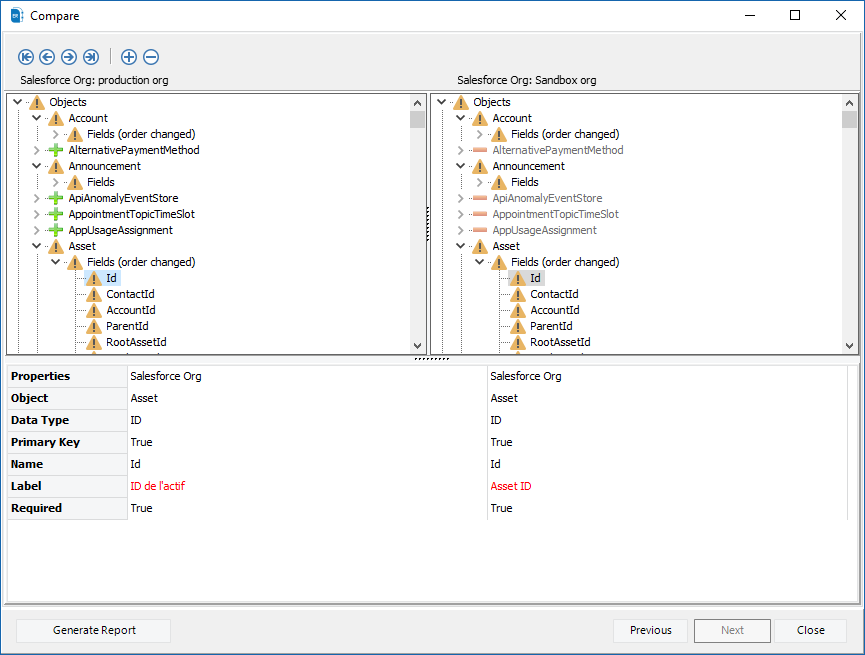 In the result window, objects that are the same are marked with an equal icon "" and those that are different are marked with a warning icon "". Differences between metadata are highlighted in red.

The plus or minus icon indicates that an object exists in one project but not in the other.
Click any individual object or metadata to show more details about the comparison under the comparison grid.

4. Generate comparison report
Finally, you can generate a comparison report that contains the differences detected by AbstraLinx. This report can be used to explore the exact differences between two Salesforce Orgs. It can also help with release management as well as corporate compliance, governance, and security. This report is generated in HTML format.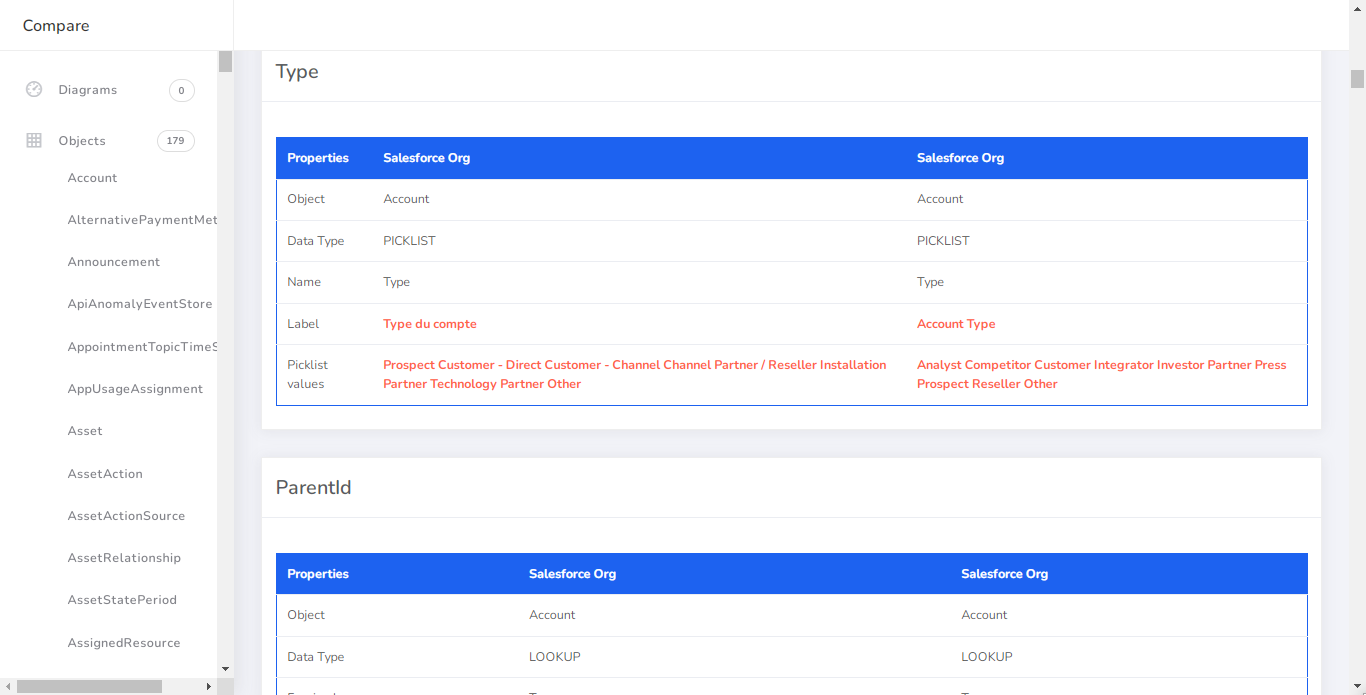 Conclusion
In conclusion, metadata is more than just information - it's the key to understanding the data, and each change can have a ripple effect that impacts not just that single data point but also the entire business.
With a proper understanding of your Salesforce orgs, you can make better-informed decisions that will help you predict the future, optimize your orgs and better serve your customers.
Subscribe To Our Newsletter
Subscribe to our email newsletter today to receive updates of the latest news, tutorials and special offers!
This website uses cookies to improve your experience. By using this website you agree to our Privacy Policy.
Read more