Intelligence, Automation, Effortlessness
Revolutionize Salesforce metadata management with

AbstraLinx AI Integration

.
---
AbstraLinx is your Salesforce transformation partner. With the integration of generative AI from OpenAI, AbstraLinx takes your Salesforce experience to the next level. Say goodbye to traditional data model updates and documentation challenges.
Empowering Salesforce Metadata Management with Generative AI
Are you looking to streamline your Salesforce metadata management and documentation processes? Look no further! AbstraLinx integration with OpenAI's generative AI technology, brings you a cutting-edge solution that makes managing your Salesforce metadata a breeze.
Data Model
Updates

Say goodbye to complex procedures. Now, you can make changes simply by describing your requirements in plain language or by providing user stories.
Automated Documentation

Whether it's triggers, validation rules, or Apex classes, our generative AI feature can automatically generate descriptive documentation.
AI Query
Assistant

Now, you can ask questions about your Salesforce data model in natural language and AbstraLinx will retrieve the relevant information you need.
Simplify Adding Objects to Your

Salesforce ER Diagram
Update your Salesforce Entity-Relationship (ER) diagram by simply describing the changes you want in plain language or from providing user stories or requirements.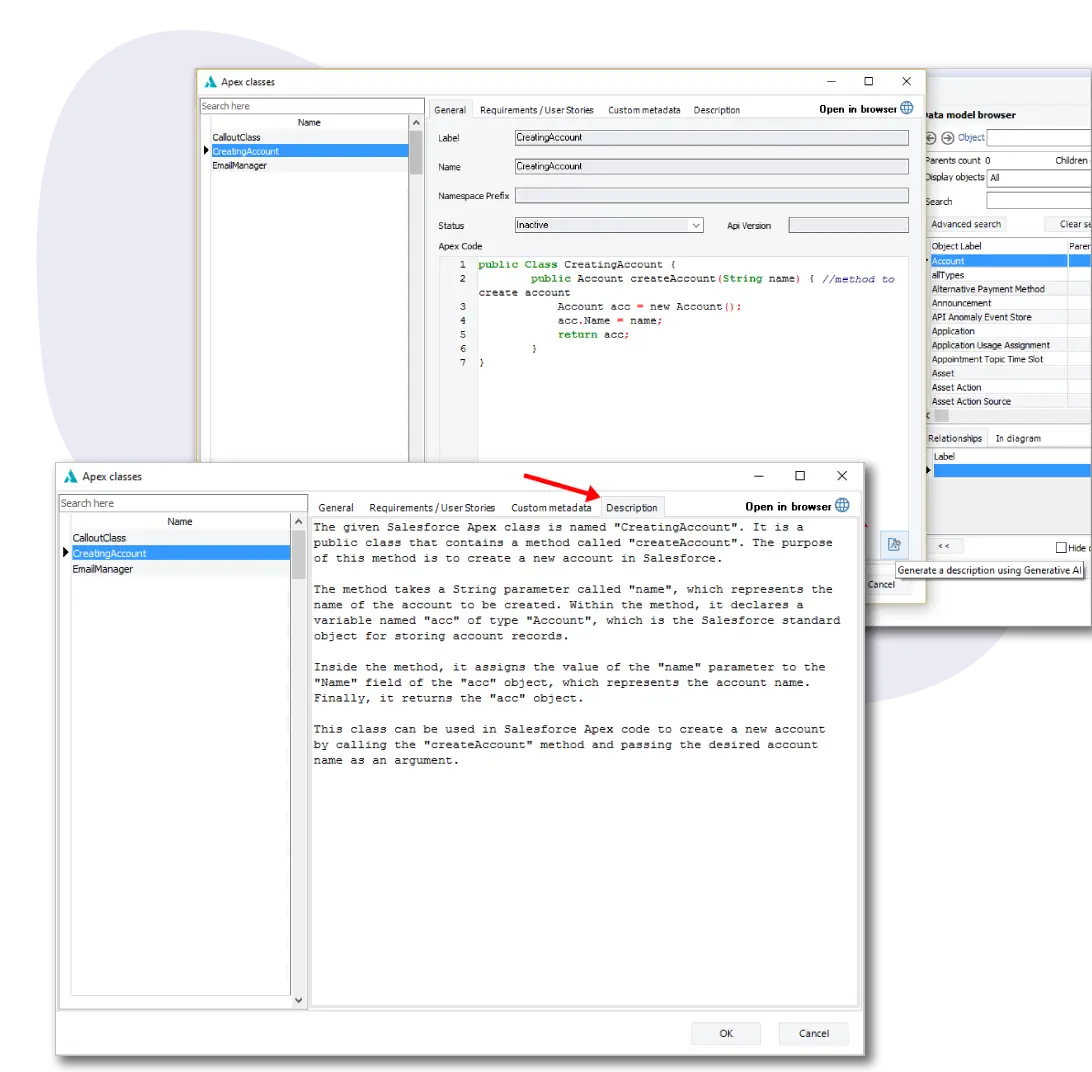 Automated objects description generation
Document your Salesforce organization with precision. AbstraLinx's Generative AI automatically generates detailed descriptions for triggers, validation rules, and Apex classes. Your Salesforce organization well-documented in no time.
Ask your org


and get deep insights
AbstraLinx's AI Query Assistant empowers you to interact with your Salesforce data model. Ask questions using natural language, and watch as AbstraLinx's AI query assistant seamlessly transforms your queries into SQL, providing you with deep insights through data retrieval.
Take the Next Step with AbstraLinx's Generative AI