The Enhanced Abstralinx 4.0 has been released
Oct 18th, 2022,


Today, Softbuilder is delighted to announce the release and general availability of AbstraLinx version 4.0. In the last few months, we have been tirelessly working to improve our product and we believe that this new updated version will help you enjoy your experience with us even more.
In this release, AbstraLinx brings a refreshed look to the diagrams design area that provides a simpler, more coherent experience that lets you focus more easily on your work. You'll also notice bolder, rounded design elements as well as new color styles. We had a lot of fun building this version of AbstraLinx and we hope you'll enjoy the new look.
This version of AbstraLinx comes with a new console application, "Ablx.exe", added for convenient documentation and data dictionaries generations automation. The new console application allows users to perform the generation via the command line.
AbstraLinx 4.0 also brings you a general refresh, performance upgrades, and fixes some issues.
So let's see what's new in this version without further ado
Generate documentation and data dictionaries reports using AbstraLinx command line console
Schedule the generation of documentation and data dictionaries
Export and import multiple requirements/ user stories (update existing ones) from a CSV file
Link a requirement/ user story with other requirements/ user stories
The object's design got enhanced by adding rounded corners, highlighted fields, new color styles, and other styling changes
Draw master-detail relationships on the diagrams
Add two new relationships line styles to help you to handle the straight relationship line
Apply the same color style to multiple objects
Add a relationships legend to the diagram
Relooking the text box and the group box design with rounded corner
Salesforce API versions 54 and 55 support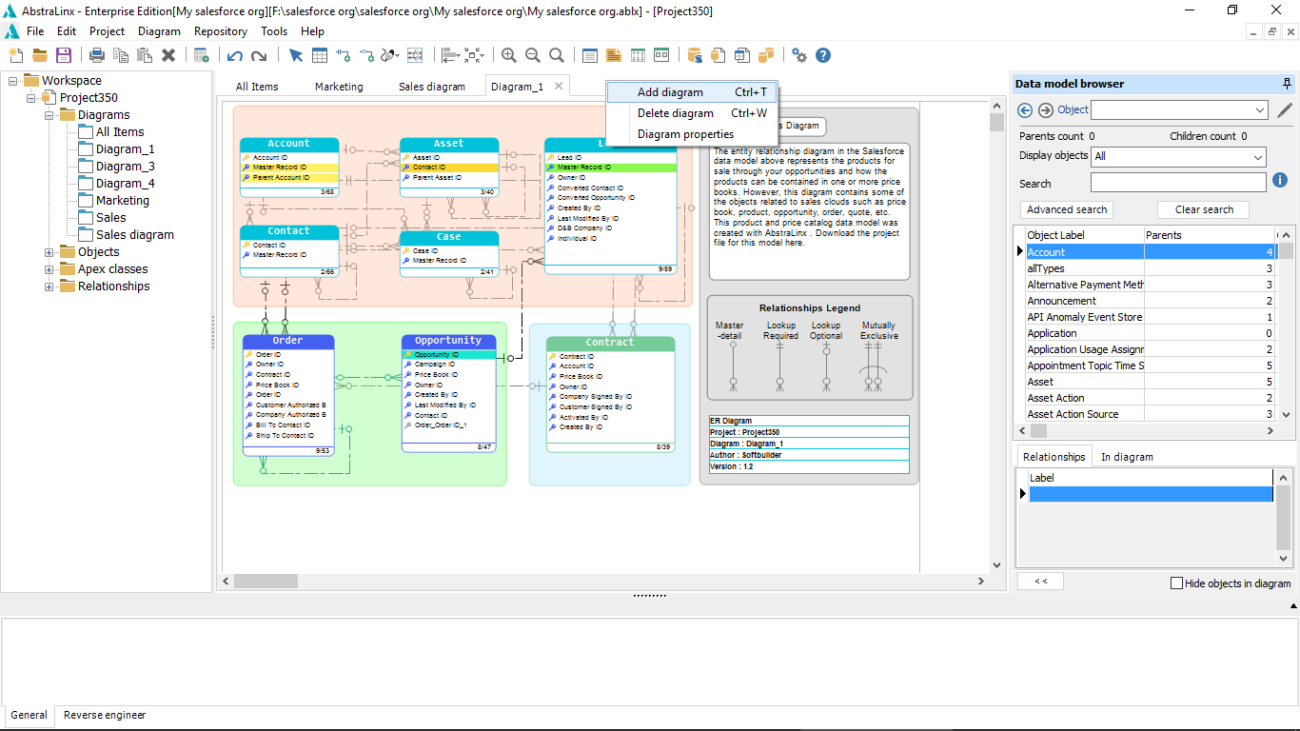 Pricing and Availability
AbstraLinx is free of charge to existing customers with up-to-date support and maintenance. AbstraLinx is available in a monthly or yearly subscription. The lowest edition is the Standard and it's offered at the price of $13/month. The professional edition is offered at the price of $23/month. AbstraLinx is also available in an enterprise edition with all advanced features and prices varying between $69 (monthly subscription) and $690 (annual subscription). See all pricing details

A free trial of AbstraLinx is available here: