ERBuilder for Salesforce 2.0 brings new capabilities for deeper insight and easier browsing into the Salesforce data model
Nov 12th, 2020,


Softbuilder today announced the latest release of its Salesforce metadata exploring tool, ERBuilder for Salesforce v2.0. This major release will provide significantly enhanced capabilities for extracting and exploring metadata from Salesforce organizations. This release is designed to help to ensure that Salesforce admins, analysts, and developers can more easily and quickly understand and make use of Salesforce ER Diagram.
Here are some valuable new features on ERBuilder for Salesforce:
A new data model browsing feature: The main purpose of the Data model browser feature is to allow a full exploration of the data structure extracted from Salesforce. The advanced search feature integrated to the data model browser provides more flexible search capabilities.
Generate automatically data dictionaries for your Salesforce org on different formats (HTML, CSV, XML, JSON, TXT, SQL, and MS-EXCEL).
Conversion from Salesforce to another target Database Management System by generating DDL scripts.
And more performance improvement.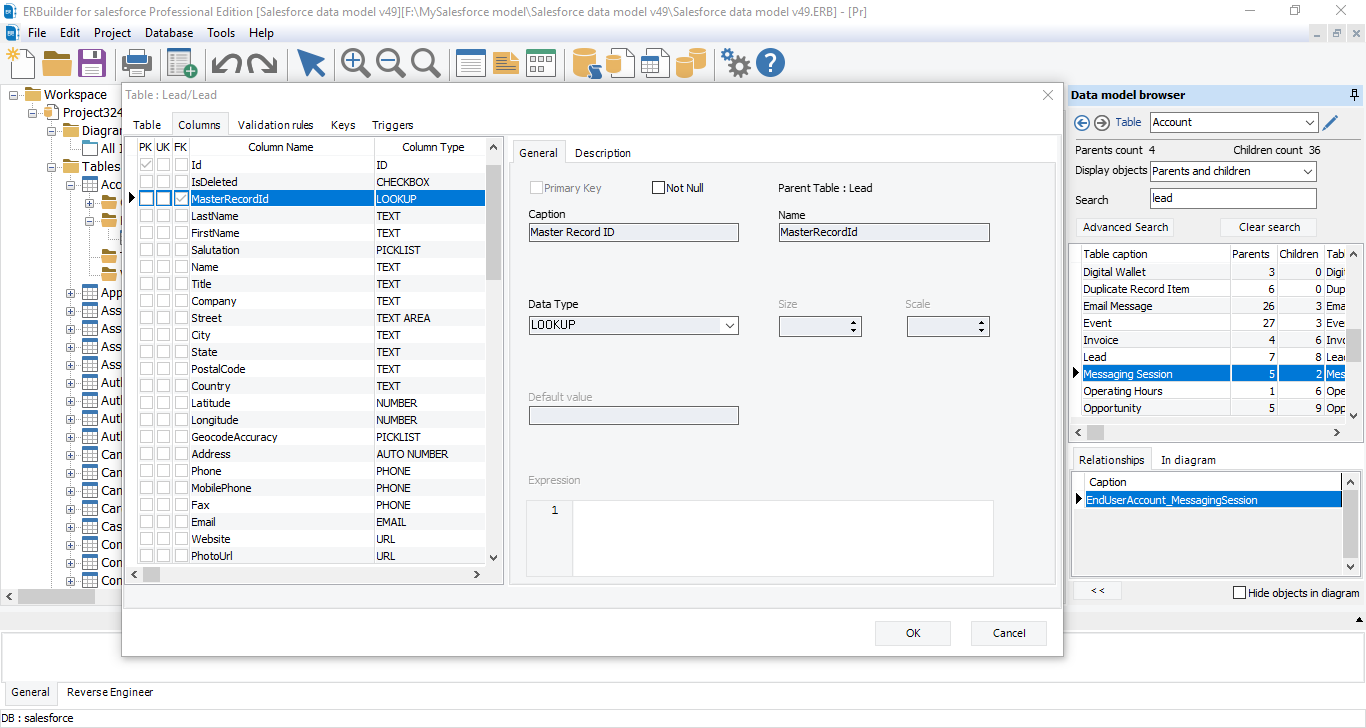 Pricing and Availability
ERBuilder for Salesforce 2.0 is available free of charge to existing customers with up-to-date support and maintenance.
Softbuilder launched a new edition in addition to the standard edition. The new professional edition is offered with all the advanced features at the price of $229 for an annual subscription and $449 for a perpetual license for a single user +1 year of support and maintenance. ERBuilder for Salesforce standard edition is available with the price of $129 for annual subscription, $249 for perpetual license and $329 for floating license. See all pricing details

A free trial of ERBuilder for Salesforce is available here:
Book a demonstration of ERBuilder for Salesforce
Share on:
[wp_social_sharing social_options='facebook,twitter,linkedin,pinterest,reddit' twitter_username='softbuilder1' facebook_text='Share on Facebook' twitter_text='Share on Twitter' linkedin_text='Share on Linkedin' pinterest_text="Share on Pinterest" reddit_text="Share on Reddit" icon_order='f,t,l,p,x,r' show_icons='2' before_button_text='' text_position='' social_image='']