ERBuilder for Salesforce 2.1.17 Brings New Capabilities For Easier Connection To Your Salesforce Organization
May 03rd, 2021,


Softbuilder are delighted to announce the release and general availability of ERBuilder for Salesforce Version 2.1.17. In this release, ERBuilder for Salesforce adds a new connection method to the product, making it easier than before to set up a connection between ERBuilder for Salesforce and a Salesforce org. This simplified new method will significantly enhance capabilities of extracting and exploring metadata from Salesforce.

ERBuilder for Salesforce 2.1.17 also introduces a new "update model" feature, designed to allow users to synchronize their data model with changes applied in the Salesforce org. This release brings you a general refresh, performance upgrades and fixes some issues.
What's New in ERBuilder for Salesforce 2.1.17
Added: Simplified authentication method
Added: Update model from a Salesforce org
Added: Salesforce API version 51 support
Improved: HTML documentation
Fixed: Minor issues
Learn more in the release notes.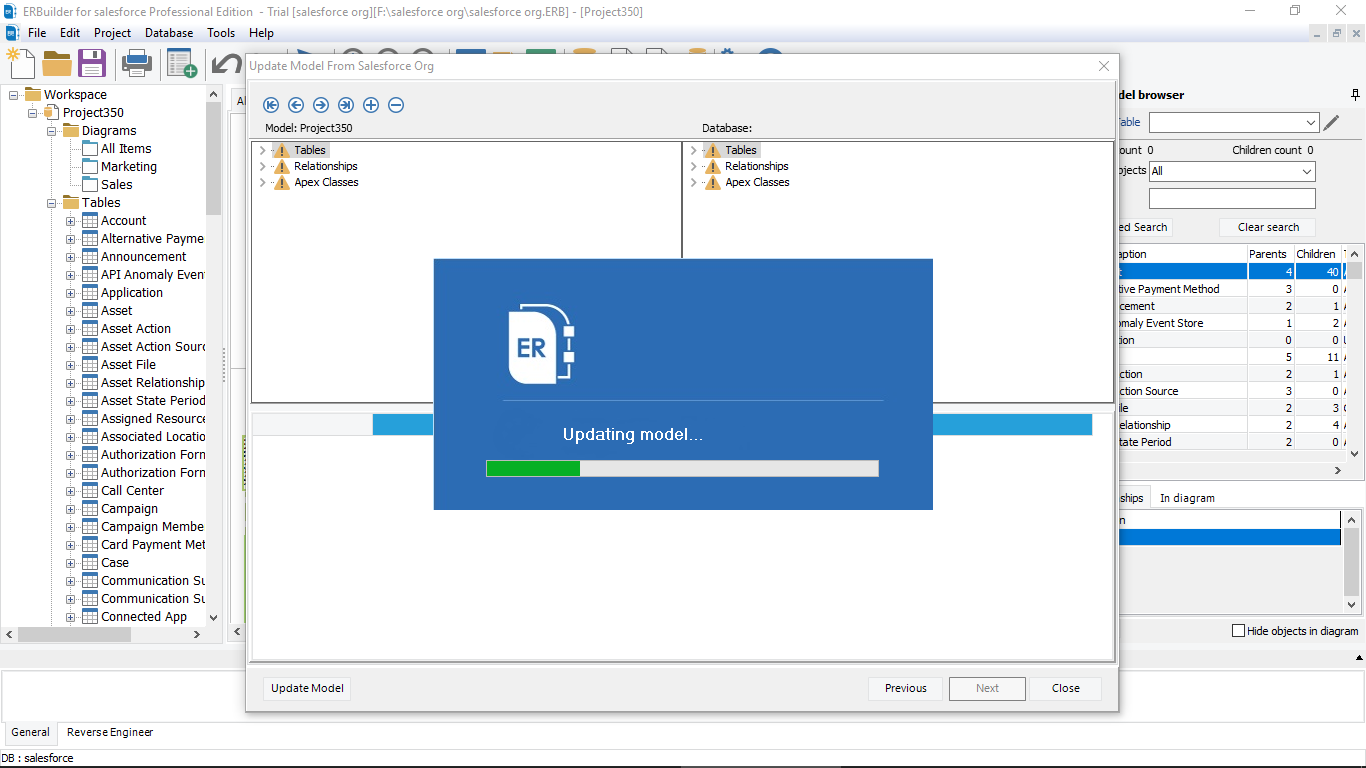 Pricing and Availability
ERBuilder for Salesforce 2.1.17 is available free of charge to existing customers with up-to-date support and maintenance.
The Standard version is offered at the price of $129 for an annual subscription and $249 for a perpetual license for a single user +1 year of support and maintenance. ERBuilder for Salesforce is also available in a professional edition with all advanced features and prices varying between $229 (Annual subscription) $449 (perpetual license) and $599 (Floating license). See all pricing details

A free trial of ERBuilder for Salesforce is available here:
Book a demonstration of ERBuilder for Salesforce
Share on:
[wp_social_sharing social_options='facebook,twitter,linkedin,pinterest,reddit' twitter_username='softbuilder1' facebook_text='Share on Facebook' twitter_text='Share on Twitter' linkedin_text='Share on Linkedin' pinterest_text="Share on Pinterest" reddit_text="Share on Reddit" icon_order='f,t,l,p,x,r' show_icons='2' before_button_text='' text_position='' social_image='']